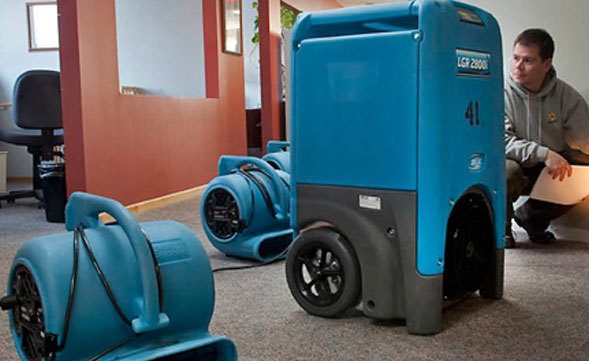 With Water Damage, Act Fast
Pipes burst. Roofs leak. Sewers clog. Water damage will affect more than one-third of property owners. You can't plan for it, but you can be prepared to prevent it from destroying your property or silently causing further issues.

Act fast. Don't let even a small water loss permanently damage your ceilings, floors, walls and belongings. As soon as DryTech gets your insurance company reference, we'll work with your rep to set the process in motion. We'll get on the scene to cost-effectively remove water from your property as quickly as possible. By using our state-of-the-art restorative drying equipment, it can minimize or even eliminate the need for reconstruction if caught in time. We'll work efficiently with you to develop a full restoration plan to bring your home or business back together.

DryTech features a large inventory of Dri-Eaz commercial drying equipment, and offers equipment leasing. Whether it's industrial-strength fans, heavy-duty dehumidifiers or turbo air-movers, we have the perfect solution for your situation.
Testimonial:
"If you are looking for a restoration company that has class, professionalism, patience and a solid work ethic, look no further than DryTech. If you want to feel comfortable in your own home during your restoration and have your entire family, including your pets, treated with respect, this is the company for you. They completely helped turn around an unfortunate experience into a positive one by taking all of the stress out of this restoration."
Water Damage Tips
Steps to minimize water damage
Water damage takes many forms. But, any amount can be dangerous, so it must be addressed quickly and decisively. Water is causing more damage every moment you wait.
Follow these steps and minimize the damage:
Contact a certified water damage restoration company immediately. DryTech representatives are available 24 hours per day. Call 651-429-8444. DryTech will even walk you through the complicated insurance claims process with your insurance agent.
Shut off power to all flooded areas immediately, if possible. Safety should be your primary concern. Water near electrical outlets and appliances poses a serious risk of electrical shock.
Work with the certified professional to help you shut off the water source.
Protect furnishings; wipe away excess moisture and remove them from water areas, if possible.
Lift drapes off the floor and remove rugs and other items from flooded area.
Move valuables to a safe, dry place.
Stay out of rooms where the ceiling is sagging.
Tips for moisture and humidity control
Where there's excess moisture, there's probably mold. Fortunately, you can prevent it. Whether excess moisture is from recent water damage or lack of ventilation, there are a few simple steps that you can follow to reduce moisture and humidity in your home.
Identify and fix the moisture problem. The first step is to identify the moisture source. Common sources include:
Flooding
Condensation
Roof and plumbing leaks
Firewood stored indoors
Humidifier use
Inadequate venting in kitchen or bathroom or from combustion appliances
Failure to vent clothes dryer exhaust outdoors
Investigation can be difficult. DryTech's certified team includes industrial hygienists who can test your home for mold. In most severe cases, you'll need these professionals for effective mold abatement. Call us at 651-429-8444 for a consultation.

Act fast.

Condensation is a sign of high humidity. Act quickly to dry the surface, find the source, and fix the problem. Here are few tips:
Keep indoor humidity low. If possible, keep indoor humidity below 55 percent (ideally between 30 and 50 percent) relative humidity. Relative humidity can be measured with a moisture or humidity meter, a small, inexpensive ($10-$50) instrument available at most hardware stores.
Vent appliances that produce moisture, including clothes dryers, stoves, and kerosene heaters to the outside where possible.
Use air conditioners and/or de-humidifiers when needed.
Run the bathroom fan or open the window when showering. Use exhaust fans or open windows whenever cooking, running the dishwasher or washing dishes.
Clean and drain air conditioning drip pans and lines to ensure unobstructed airflow.
Cover cold surfaces, such as cold water pipes, with insulation.


Contact Us for Professional Services or Equipment Leasing!

Contact DryTech for a quote today! Our response teams are available 24 hours a day!
Respond. Repair. Restore.
Trust in DryTech. Trust that everything will be restored.