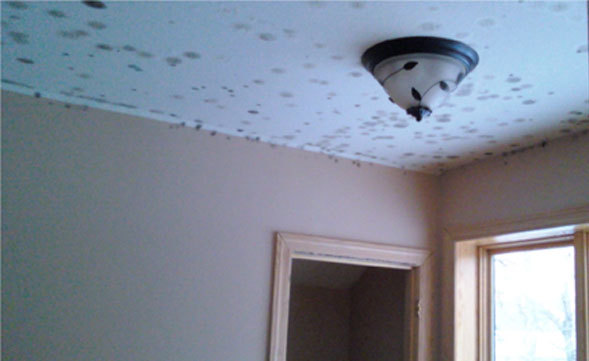 Mold—It's More Than a Four-Letter Word
You may not see it. You may not even smell it. But, the dangers of mold are very real. In as little as 48-72 hours, mold can spread throughout a property with the introduction of a hidden moisture source like a roof or plumbing leak.

It's critical that you act quickly and call a certified professional at the first signs of water damage. Your property—and your health—may be at risk. Mold can lead to allergens, irritants, and even potentially toxic mycotoxins that can cause respiratory problems. Children and the elderly are particularly vulnerable.

Drying, cleaning and killing molds aren't enough. Active or inactive mold spores are still dangerous. Successful mold remediation requires proper containment, continuous monitoring, safe disposal and extensive evaluation, readings and testing. DryTech offers state-of-the-art removal, reconstruction and remediation techniques that meet or exceed the strict guidelines established by the EPA, New York City Guidelines - Department of Health, and the IICRC. Trust DryTech to minimize inconvenience and get things back to normal as soon as possible.
Testimonial:
"It was really nice to see how DryTech stood by their work until it was completed! We would be happy to recommend DryTech to anyone!"
— Residential Homeowner
Tips for Mold Containment & Removal
Identifying and Fixing Moisture Problems
Do you see mold? (Mold often appears as discoloration, staining or fuzzy growth.)
Is there a steady earthy or musty smell?
Are there water leaks, standing water, water stains or condensation problems?
Identify and fix the moisture problem. The first step is the most important — identify the moisture source. Common sources include:
Flooding
Condensation
Roof and plumbing leaks
Firewood stored indoors
Humidifier use
Inadequate venting in kitchen or bathroom or from combustion appliances
Failure to vent clothes dryer exhaust outdoors
Investigation can be difficult. DryTech's certified team of mold specialists includes industrial hygienists who can test your home. In the most severe cases, you'll need these specialists for effective mold abatement.
Begin drying all wet materials. Use fans and dehumidifiers. But, you might need some heavy-duty help. DryTech offers equipment leasing options for superior water removal and moisture and humidity control.
Remove and dispose of mold contaminated materials. Moist items and items with mold need to be removed, bagged and thrown out. Non-porous materials with surface mold growth may be saved if they are cleaned well and kept dry.
Protect Yourself. The following equipment helps minimize exposure to mold:
Rubber gloves
Eye goggles
Long sleeves and long pants that can be easily removed and discarded
Use an N95 or a N100 type disposable respirator, at the minimum.
Protect Others. Consider the following actions to help minimize the spread of mold spores:
Enclose or contain all moldy materials in plastic (bags or sheets).
Hang plastic sheeting to isolate the work area.
Cover supply and return vents in the work area.
Place fans in windows of work area to pull contaminated air out of the work area and exhaust it to the outdoors.
Remove outer layer of work clothing in the work area and wash separately or bag.
Clean surfaces.
- Thoroughly scrub all contaminated surfaces using a still brush, hot water and a non-ammonia soap/ detergent or commercial cleaner.
- Collect excess cleaning liquid with a wet/dry vacuum, mop or sponge
- Rinse area with clean water and collect excess rinse water.
Disinfect surfaces. Disinfection is strongly suggested:
- Mix 1/4 to 1/2 cup bleach per gallon of water. Never mix bleach with ammonia; toxic chlorine gas will result. Collect excess cleaning solution with mop or sponge. Do not rinse or wipe the bleach solution off the areas being treated - allow it to dry on the surface.
Be alert. Always look for signs of mold growth. Be particularly alert to moisture in areas of past growth. Regrowth may signal that the material should be removed or that moisture is not yet controlled
Assessing Stucco Deterioration and Mold Sources
It's easy to notice water damage after a flood or burst pipe. But that doesn't mean that residual water damage isn't slowly eating away at your home and putting you at risk. Stucco deterioration is a very common source for mold.
You might notice a consistent earthy or musty smell. Or, you might notice discoloration or water in your home. Water infiltration will cause wood lath to rot, and metal lath and nails to rust, which eventually will cause stucco to lose its bond and pull away from its substrate. It's important to contact a certified stucco remediation specialist to assess the damage. DryTech Restoration (651-429-8444) offers more than 20 years of stucco remediation experience.
There are many causes of water infiltration, including shoddy workmanship. In fact, insufficient repair work is a primary cause for water infiltration. Potential causes of stucco deterioration include:
leaking gutters and downspouts
intrusive vegetation
excessive interior condensation and humidity
insufficient bathroom and kitchen vents
excessive ground water with poor drainage around the foundation
Repair, then restore.
Before beginning any stucco repair, an assessment by a certified profession should be undertaken to determine the extent of the damage to the stucco. Testing should be carried out systematically on all elevations of the building to determine the overall condition of the stucco.

Some areas in need of repair will be clearly evidenced by missing sections of stucco or stucco layers. Bulging or cracked areas are obvious places to begin. Unsound, punky or soft areas that have lost their key will echo with a hollow sound when tapped gently with a wooden or acrylic hammer or mallet.

Repairing the stucco, however, isn't enough. After finding the source for water infiltration, it's imperative that you repair the area as efficiently as possible. Don't take any chances of reoccurrence. A certified restoration company can manage the entire process to restore your home.
Contact Us for Professional Services or Equipment Leasing!

Contact DryTech for a quote today! Our response teams are available 24 hours a day!
Respond. Repair. Restore.
Trust in DryTech. Trust that everything will be restored.